Real Clear Politics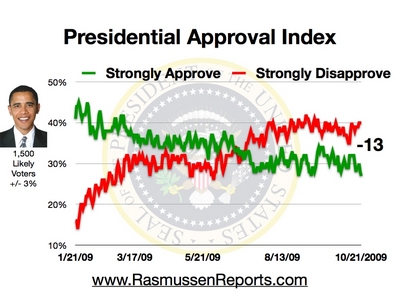 Barack Obama has suffered the worst third quarter decline in his public approval rating of any elected president in the post-World War II era.
Obama's average quarterly approval rating has slipped from 62 percent in the second quarter to 52.9 percent in the third quarter, according to Gallup polling.
That 9 percentage point decline is twice the amount of any other post-war elected president. Dwight Eisenhower, Jimmy Carter and Ronald Reagan saw their standing decline 4 points between the two quarters. No other elected president has declined more than 4 points since 1953. The third quarter began July 20 and ended October 19.
Harry Truman, who of course inherited the presidency from FDR, dropped 13 points between his second and third quarters in 1945 and 1946.
Gallup's latest tracking poll shows Obama right at 50 percent. That matches the lowest ranking of his still-young presidency. Rasmussen also tracks Obama near his previous floor.